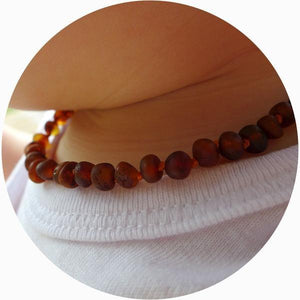 Love it!!!
My son had an amber necklace when he was a baby getting his teeth till he outgrew it. We had hardly any dribbling and not much complaining. He has started now to get his 2 year old molars and dribbling heaps with also telling us his teeth hurt. I brought an amber necklace and after a day or 2 we could notice the difference. His educators at his daycare even complimented on how well it worked.
hi I actually haven't received my order it said it was delivered to my house but it never turned up!
Great product, love a natural option!
Loving a natural option to help combat the teething battles. Notice my little one was a lot calmer & barely realises it's on. I have great peace of mind knowing that if it's broken the beads won't all fall of and be a choking hazard either. Great design!
This product actually works!!
Wow, I am honestly blown away by the relief my little one has now, he's only been wearing it for about a week and has only teethed bad yesterday as 2 teeth have popped through. Highly recommended. It should be sold as a gift with leaving the hospital in my opinion.
The amber necklace
My son absolutely loves the necklace it has made his teething experience much better. He is not so fussy when it comes to teasing. It really does help and it looks so beautiful on him