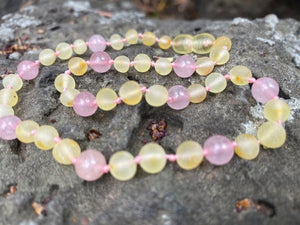 ROSE QUARTZ AND RAW LEMON AMBER
Amazed!!
My little 5 mo has been wearing the rose and amber necklace for almost a week and not sure if it coincidence or not but the difference it has made is amazing! She's seems so much more relaxed and happy. Goes off to sleep better and stays asleep. I always thought her teeth could be moving around causing her discomfort but it's hard to pin point what might be wrong as she gets windy aswell. Highly recommend trying if your confused. Plus it looks gorgeous on. Thank you so much amber house.
Hi although I loved the item the clasp beads were faulty. When it was put on it continued to turn and would not get tight. Due to this unfortunately the item was lost on a playground while my daughter was playing, not sure if I'll be replacing it due to this fault.
Very happy
Quick shipping, beautiful packaging and even came with a beautiful hand written thank you note. Love the amber necklace!
Very nice
Havent used it yet as bubs is still on the way, but it is just as pictured and the quality is great. Would definitely recommend and will buying from here when i need/want another