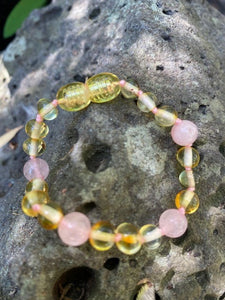 Really cute bracelet but too big for my 18month old.
Life Saver
My daughter is 10months old.
She is teething and has a cold & has never slept longer than 2-3 hrs at night & only has 1 20min-45min day sleep.
We have had the amber & rose quartz bracelet on for 4 days now and she has cut her 4th tooth. She has slept 3x1-2hr day sleeps and slept 6+ hrs each night.
I wish I had purchased this far sooner as her teething has been a pretty rough time before now, with regular doses of paracetamol & teething gel - I haven't had to use either since having the bracelet.
Thankyou for creating this fabulous product I will be recommending it to all my mum friends.